The day you start your Invisalign® treatment is an exciting one. It marks the start of a step-by-step process toward an even greater smile, using one of the best invisible braces on the market. As with any change, it will take a little time to adjust, but you will soon be a pro at wearing, cleaning, and removing your new aligners.
You may experience some minor pain and gum irritation on day one of wearing your clear aligners, but your mouth will soon become accustomed to them. The process of teeth straightening involves putting gentle but constant pressure on the teeth to be moved, so some soreness is possible when a new tray is used.
What can you do to make your first few days with Invisalign® more comfortable?
Use Dental Wax for Irritating Edges
Dental wax may come from your orthodontist, and it can even be ordered online. This soft and safe substance is designed to cover wires and brackets for traditional braces, but it works well on any edge that feels sharp. Replace the wax daily, or as needed when you clean your aligner.
Practice Chewing
Eat soft foods or liquids if your teeth are sore from the guiding pressure of the aligner.
Biting and chewing exercises improve circulation, massage the gums, and serve as a natural pain reliever. Using Styrofoam "chewies" from the aligner starter kit, you can do these exercises several times a day to ensure that your aligners are fully seated.
Inserting and Removing Your Aligners
You will be shown how to insert and remove the aligners, but, especially with a brand new and tight-fitting tray, it can be a little tricky until you get used to it.
These tips may help as you learn how to handle your new Invisalign® treatment:
Inserting an Invisalign® Aligner
Gently push the aligners over your front teeth.
Use your fingertips to push the back of the tray up on both sides.
Snap the aligner in place on both back molars at once.
Avoid "biting" the aligner into position.
Removing an Invisalign® Aligner
Start with a fingertip on the inside of your back molars.
Gently pull the aligner away from your back teeth.
Slowly work forward with your fingers to free the tray from each tooth until it comes away easily.
How Should I Care for My Aligner?
You should follow these simple rules to care for your Invisalign®:
Remove the aligners to eat or to drink anything but water.
Brush your teeth and the aligner before putting it back in.
Wear your aligners 20-22 hours per day.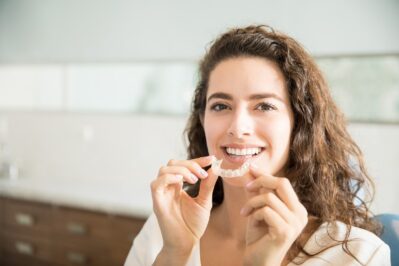 What Other Things Will I Notice?
You might notice that your speech is affected at first, making it difficult to say certain words or causing a slight lisp. This is normal and will disappear quickly with practice.
A Clear Focus on Your Smile
Finding the best orthodontist available helps make the process of improving your smile fun and easy. At Labbe Family Orthodontics, we treat you like one of our family. We bring happy faces to all ages with orthodontics focused on an enjoyable patient experience. Schedule an appointment today at one of our convenient locations in Annapolis, Bowie, Greenbelt or Crofton, MD.