Each patient and smile is different, and children's teeth go through many phases as they grow. Consulting with a pediatric orthodontist early on can help you plan for the future and take the right steps at exactly the right time to help your child grow into a healthy, beautiful smile.
There are many great options when it comes to braces for kids. Let's talk about how early to schedule the first orthodontist visit, what the initial visit will be like, and the options available for your children's treatment.
At What Age Should Your Child Visit the Orthodontist?
The recommendation of the American Association of Orthodontists is that children should have their first appointment at age seven. Certainly, if your dentist recommends a visit sooner or if you have specific concerns, you can visit a children's orthodontist even earlier.
Why Is An Early Visit Important?
Straightening teeth is a science of gentle pressure and guidance. By visiting early and building a relationship with an orthodontist, your child gains these advantages:
Identifying jaw growth issues and treating emerging teeth for the best possible results.
Preventing more serious problems and more complex treatment in adulthood with early intervention.
Having time to correct oral habits like night thumb sucking before they impact permanent teeth and jaw growth, reducing the need for realignment later.
Reducing the risk of injury if the front teeth protrude, as well as reducing teasing and enhancing confidence.
Improving developing speech and reducing lisps by helping the lips meet correctly.
What to Expect at a Family Orthodontics Visit
Your first visit to an orthodontist's office will help you decide if this is the right place for your family. The closest orthodontist might be the most convenient, but the relationship that your family builds with the right team of specialists can last through generations!
The purpose of a first appointment should be to meet your team of specialists and discuss your expectations and goals. The initial consultation procedure generally takes about one to two hours.
Supportive and friendly staff members will gather your family history and basic information.
Your orthodontist will perform a visual and gentle examination of the teeth and gums.
X-rays and photographs will be taken to identify hidden problems and document the starting point of treatment
Your orthodontist will explain any issues that might need treatment or may find that everything is great as it is.
You will get clear recommendations about what treatments might be beneficial and how soon they should start.
You will receive an estimate of treatment costs and get help understanding your insurance coverage.
If you wish, you might also discuss the payment plans and financing options available.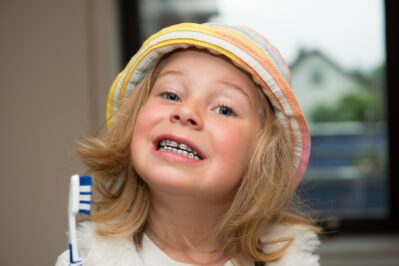 Moving Forward with a Family-Focused Team
At Labbe Family Orthodontics, we will help you choose a treatment plan that is timely, gentle, and affordable because we know life is better with a smile! We offer traditional metal braces, Invisalign aligners, almost invisible ceramic braces, and more.
With a fun, family-focused environment, the best children's orthodontist for your Maryland family is right here! At our conveniently located offices in Annapolis, Gambrills, Bowie, and Greenbelt, the smiles start with your first visit and last a lifetime. We would love to meet you and your children at any age, so schedule a free consultation now for that important first appointment.