The Twisted Truth: What You Need To Know About DIY Teeth Straightening
Many people who are looking for the cheapest way to straighten teeth are turning to online treatment options instead of going to see a professional family orthodontist. While cheaper, competitor-sourced Invisalign aligners may seem like they share the benefits, they are a far cry from the personalized care and orthodontic supervision needed to achieve success.
Beyond the quality of care limitations, there are also certain safety risks to consider when using these aligners. Let's discuss how at-home orthodontic appliances became available, why the ADA "strongly discourages" DIY teeth straightening due to safety concerns,1 and explore the advantages of choosing professional orthodontic care over DIY services.
What Is DIY Teeth Straightening?
At-home tooth straightening was first made available by two companies seeking to provide invisible braces to customers based on pictures, online consultation, and self-made dental impressions. The process looks like this:
There is an initial online consultation with a customer service representative.
You receive a kit by mail with basic instructions and supplies.
You take your own dental impressions and mail them back.
You take your own dental photos and upload them.
You sign a statement that you have seen a professional dentist and had the appropriate x-rays taken.
A dentist or orthodontist MAY review the uploaded photos and dental impressions, but this is not required.
A set number of clear trays (usually 20) are created to re-align your teeth.
You receive the trays by mail and wear them according to the pre-determined schedule.
Without any supervision or adjustment during the treatment period – and with only 20 trays made available – this unreliable service can cause severe damage to your teeth, gums, and the underlying bone structure in your jaw. Structural damage or more serious orthodontic diseases may also go undiagnosed due to the complete lack of personal care and attention.
Why Are Mail Order Braces Trending?
While the FDA classifies dental aligners as prescription devices and has approved various kinds for prescription use,2 the service lacks the proper attentive care, leaving room for insidious damages and improper online prescriptions. It is thusly up to the dental boards of each individual state to define appropriate care standards for their citizens.
This unfortunate process often targets those individuals who are interested in Invisalign but do not have the means or ability to create a personal relationship with a qualified orthodontist. These advertising campaigns make light of the complex process of changing bite alignment, straightening teeth within existing bone structure limitations, and maintaining strong teeth and healthy gums.
Low-cost ways to straighten teeth may seem appealing at first, but with no mechanism for personalizing treatment, adjusting for individual bone structure, or paying as you go, once the fees are paid, there is little recourse for the consumer when results are poor, painful, or result in permanent damage or tooth loss.
What Are The Risks Of DIY Teeth Straightening?
Those who choose to purchase an at-home teeth-straightening kit will need to deal with discomfort and uncertainty throughout the process. The American Association of Orthodontists has taken a leading role in bringing visibility to the dangers of online orthodontics and teledentistry.
Some of the risk factors the AAO and users of the products have identified include:
Discomfort and vomiting during the at-home bite impression process
Alignment trays that do not fit due to inaccurate impressions or faulty manufacturing
A limited number of aligners, all created from a single impression to prevent ongoing adjustment
An inability to address bite issues, jaw health, or gum disease
A tendency to cause or exacerbate TMJ
A lower standard of care and complete lack of personal relationships or accountability
Increased risk of bone damage or tooth loss due to the unsupervised nature of the treatment
Lack of compliance with state-based laws requiring certain medical work to be performed by licensed professionals – which can include taking bite casts and delivering prescription dental appliances to patients
In support of the professional practice of family orthodontics, the AAO has issued a consumer alert on their website which states:
"The American Association of Orthodontists is urging consumers to beware of Internet videos and websites which encourage people to try and straighten their own teeth. Moving teeth is a medical procedure and needs personal supervision by an orthodontist… Moving teeth without a thorough examination of the overall health of the teeth and gums could result in the permanent loss of teeth, which may result in expensive and lifelong dental problems. Orthodontists receive two to three years of specialized education beyond dental school and are specialists in straightening teeth and aligning the bite."1
Nearly 13% of AAO members reported seeing a patient who has used a do-it-yourself teeth-straightening kit, with some experiencing irreparable damage from the process.1 Some users go on to require extensive professional orthodontic treatment, or even surgery, to repair or mitigate the damage caused by mail-order aligners.
Distance Decreases Quality Of Care
With a personal connection and genuine service, your family orthodontist is an irreplaceable partner in creating optimal mouth health. Providing that level of quality care at a distance presents unique challenges and may never be possible, despite modern telemedicine technology. As the American Dental Association stated in their resolution, supervision by a professional is necessary for all phases of orthodontic treatment.1
Valid Use Cases For Teledentistry
Advances in teleconferencing and diagnostic imaging have brought more advanced medical treatments to patients in remote or rural areas in recent years. In the hands of licensed professionals, this technology can provide emergency care in disaster situations or bring imaging equipment to housebound patients, greatly increasing their access to modern medicine.
These recent advancements in telemedicine may overlap with emergency dentistry but cannot replace a personal visit with an Invisalign orthodontist. For a delicate fitting, manual adjustment, thorough inspection, or proper completion of a treatment plan, a professional orthodontist is the only one that can help.
Personalized Professional Care Is Safer, More Effective, And More Enjoyable
Your family orthodontist understands the safest and fastest way to straighten teeth is different for each individual. They will start with an in-office x-ray to determine whether your teeth will align properly within the bone using Invisalign braces, or if another option, such as ceramic braces, will more easily create your perfect smile.
By using the right technology and ensuring your smile stays healthy, your orthodontist can protect your overall oral health while improving your appearance. Making the most out of your investment and achieving the best possible results is part of that professional relationship.
Other advantages of choosing an expert you trust to perform your Invisalign treatment include:
Aligners are created during the process to allow greater accuracy, perfect fit, and adjustments based on current results.
There is no set limit on how many aligners may be used. Most significant adjustments require more than 20.
Attention is given not only to straighter teeth but also to proper bite re-alignment
Reducing or preventing TMJ, bone damage, tooth loss, and other serious complications is paramount.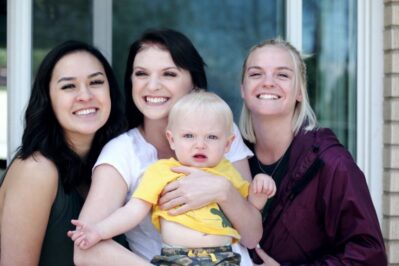 TRUST YOUR SMILE TO SOMEONE WHO CARES
If you are considering teeth straightening for you or your child, we've got you covered at Labbe Family Orthodontics. Our experts will guide you through the entire process, ensuring you receive the best care for your individual needs. Offering only the highest standard of care with affordable financing options, it's our prerogative to treat you like you're part of the family.
When you find a family orthodontic team who inspires trust and genuinely cares about your health, making the decision to straighten your teeth is easy. Our highly trained orthodontists will create an individualized care plan tailored to your smile and monitor your progress throughout the treatment.
Come visit our offices in Annapolis, Bowie, Crofton, and Greenbelt for a tour and answers to all of your questions, or schedule a free consultation to schedule a free initial consultation and take the first step toward a long-lasting smile you can be proud of.
Sources:
https://www.ada.org/en/publications/ada-news/2017-archive/november/ada-discourages-diy-orthodontics-through-resolution