Thanks to Invisalign, your teen won't have to worry about the discomfort and insecurity associated with traditional metal braces. Even so, you probably have some questions, such as how teen Invisalign works, what your teen can and can't eat with them, and how long they should wear them each day. We answer these and other common questions.
How Do Invisalign Braces Work?
Invisalign aligners will move your child's teeth into position in the same way that traditional braces do. They place enough pressure on the teeth to shift them gradually into alignment. However, unlike traditional braces, your teen will have to wear a new aligner every two weeks. Each subsequent aligner will continue to move teeth to where they should be until treatment is complete.
Do They Cost More Than Metal Braces?
Now that they've been around for many years, the cost of Invisalign is about the same as traditional metal braces. As well, because most insurance plans cover Invisalign braces, your cost can be lower than expected.
What Can and Can't My Teen Eat with Invisalign?
Many parents are surprised at the very few diet restrictions for Invisalign braces. Your teen will have to remove their aligners whenever they wish to drink or eat something, especially hot items. This is because heat can cause the plastic material to warp, which will render them ineffective.
Instead of junk food, the best diet for a healthy mouth and body is one that's well-balanced and contains the proteins, vitamins, and minerals every body needs.
How Long Does Invisalign Need to Be Worn Daily?
In order for Invisalign to work as intended, they must be worn between 20 and 22 hours a day. This means that your teen will need to track how long their aligners have been out of their mouth and remember to replace them once they're finished eating. Otherwise, their treatment will end up taking far longer than it should.
Is There a Difference Between Invisalign for Adults and Teens?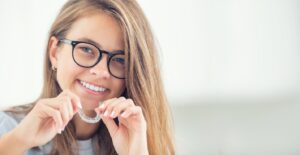 There are a couple of differences between adult and teen Invisalign braces. The teen version has a small dot on the back of each aligner. The longer the braces are in the mouth, the faster the dot will change color from its original blue to clear and finally white. This can make it easier for you and your orthodontist to tell how frequently your teen is wearing their aligners.
The other difference is the number of replacement aligners you get. Because teens aren't always as responsible as adults, you will get more replacement aligners for your teen than an adult would receive. That way, they can replace any lost or broken aligners quickly for the least interruption in treatment.
Does your teen need Invisalign retainers? Call Labbe Family Orthodontics. We'll be happy to schedule an appointment at any of our four locations in Maryland to see if they are a candidate. At Labbe, you're always treated like family. Life is better with a smile; call 410-267-7300 today.