Ortho Patient Resources
Orthodontics is the specialty of dentistry that focuses on the diagnosis, prevention, and treatment of dental and facial irregularities. Orthodontists can correct misaligned, crowded, or protrusive teeth as well as misaligned jaws. Orthodontic treatment can improve dental health as well as create a beautiful smile, functional bite, and aligned jaws. An attractive smile can help improve your self-confidence and esteem for a lifetime!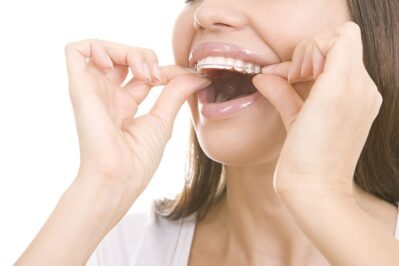 Orthodontists are dentists who have specialized in the diagnosis, prevention, and treatment of dental and facial irregularities. Orthodontists complete a four-year college degree, followed by a four-year graduate program in dentistry. What is unique about orthodontists, is that after dental school, they complete an additional two to three years of post-doctoral training focusing solely on the specialty of orthodontics. With a full-time curriculum focused on learning the biology of tooth movement, facial growth and development, and esthetics, orthodontists are the most highly qualified dentists to straighten teeth and correct jaw abnormalities.
Dr. Labbe and his associates are some of the most well-respected Doctors in their field.
Read our most recent articles about Orthodontic trends, treatments, and information:
Are You Damaging Your Teeth While You Sleep?
How To Clean Your Teeth With Braces
How To Care For Your Teeth: The Ultimate Guide To Oral Health
Are You A Candidate For Invisalign?
Life With Braces
Trends In Orthodontic Care
Benefits Of Braces
Types Of Braces
Treatment Of Specific Orthodontic Issues
How To Properly Take Care Of Your Smile & Braces
Anatomy Of Teeth
The Evolution Of Braces
How To Get Rid Of Bad Breath
The Twisted Truth: What You Need To Know About Diy Teeth Straightening
Do Braces Increase The Risk Of Cavities?
Can I Have Orthodontic Treatment If I Have Dental Implants?
Not Keeping Your Appointments And Other Ways To Delay Results Of Orthodontic Treatment
How Effective Are Braces At Fixing An Overbite?
Can Braces Fix Teeth That Are Overcrowded?
Choosing The Right Orthodontist For You: What To Consider
Best Foods To Eat With Braces—and What To Avoid
How To Safely Whiten Your Teeth
Ceramic Braces Vs. Traditional Braces: Which Is Right For You?
Headgear: An Overview
How To Choose The Right Retainer
Summer Foods To Avoid With Braces
Top 6 Misconceptions About Braces
When Are Extractions Necessary With Overcrowded Teeth?
The Basics Of Orthodontic Terminology
Why Is It Important To Correct Your Bite?
What Is Two-phase Orthodontic Treatment?
Pro Tips For Taking Care Of Your New Braces At School
Effective Methods For Combating Dental Phobia
Invisalign Vs. Generic Clear Aligners
Preventing Tooth Decay With Braces
Electric Vs. Manual Toothbrush: Which Is Better For Your Teeth?
How To Clean Invisalign Aligners
Braces For Adults: Am I Too Old?