Our gums are soft tissues which cradle and surround our teeth, providing nutrients and protection. When the gums become swollen after orthodontic treatment, this is usually a protective response of the immune system to irritation and pressure.
Because gums also become swollen as a result of gingivitis or infection, it is important to understand how to treat your swollen gums and report any signs of trouble to your orthodontist. Protecting your oral health is always our first priority!
What Causes Swollen Gums?
There are many reasons that your gums might become swollen, even if you do not have braces for your teeth. By changing habits, most of these common causes can be avoided:
Choosing the wrong toothbrush. Manual or electric, choose a brush with soft, rounded, nylon bristles. Avoid those labeled medium or hard, as these damage enamel and irritate the gums.
Brushing too hard. While brushing often is a great habit, your technique is important too. Use gentle motions in a circular pattern, which massages and cleans. Avoid aggressive back and forth or up and down patterns.
Flossing too fast. Especially if you have youth or adult invisible braces, flossing keeps food particles from being trapped between teeth and is essential to preventing gum disease and tooth decay. Be gentle in your flossing technique, working into tight spaces by following the curve of each tooth.
New orthodontic appliances. Braces and aligners used to straighten teeth put pressure on the gums as well. These soft tissues must adjust to allow the teeth to move and could be rubbed by a retainer, band, or aligner tray. They will adjust to these pressures but need time to do so.
Spotting the Signs of Gum Disease (Gingivitis)
It is worth mentioning that another cause of swollen gums is periodontal disease. Because you are visiting with your orthodontist on a regular basis for braces adjustment or Invisalign treatment, it is unlikely that you have serious gum disease. However, more than ¾ of Americans over 35 will deal with gum disease at some point.1
Gingivitis is a mild form of gum disease and is caused by a minor bacterial infection. Gingivitis is often caused by trapped food particles, and it may cause swollen gums around the problem spot. Brushing, flossing, and rinsing will usually remove the irritant, allowing the gums to heal.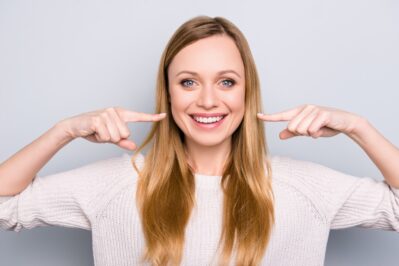 Caring for Swollen Gums After Orthodontic Services
There are many things you can do at home to reduce discomfort and soothe your irritated gums. Follow these tips for a fast return to normal:
Brushing frequently but gently with a soft toothbrush to remove bacteria and any trapped particles.
Flossing at least once a day or after every meal and clean under the gumline, removing particles, plaque, and bacteria that your toothbrush cannot reach.
Rinsing with a recommended mouthwash after flossing removes what your flossing and brushing have loosened. Medicated rinses actively kill bacteria and speed healing.
Cold liquids reduce swelling and an ice pack can work with over the counter pain-relievers to eliminate discomfort during an adjustment to new orthodontic devices.
Rinsing the mouth with a mild, warm saltwater solution can help speed healing of rubbing irritations and discourage bacterial growth.
Disinfecting toothbrushes and removable appliances with rinses or UV light can help keep your gums healthy and give you peace of mind about the cleanliness of your dental hygiene tools.
Happy Healthy Smiles Start with Great Gums
At Labbe Family Orthodontics, we want your whole mouth to be healthy, and pain-free gums are part of your happy smile.  schedule a free consultation our team of orthodontic specialists in Annapolis, Crofton/Gambrills, Bowie, or Greenbelt today to enhance your healthy gumline, improve your smile, and have fun while you visit with us.
Source:
1. https://www.webmd.com/oral-health/guide/gum-problem-basics-sore-swollen-and-bleeding-gums#2-4