We all know that brushing our teeth is essential to good oral health, but having braces means that teeth brushing is that much more important. As a local orthodontist, we get a lot of questions about how to keep teeth clean with braces, including how often to do it. Here's how to ensure your smile looks great and your teeth stay healthy while you're wearing braces.
It's All About Preventing Plaque Buildup
Plaque is a sticky film that can wreak havoc on your teeth if it isn't removed. When plaque comes into contact with any kind of sugar, it forms acid. Plaque prevention is always important, but even more so for child and adult braces. That's because there are more places for food to hide, and for plaque and bacteria to develop.
Left unchecked, the enamel can become damaged, leading to more serious conditions for your orthodontist to treat. All of that acid can also corrode your braces themselves, weakening them and making them less effective.
How Many Times a Day Should You Brush?
We recommend brushing your teeth after every meal, as well as before you go to bed. We also strongly suggest flossing every day to remove food particles. Plaque can build up anywhere between four and twelve hours after you've eaten, so it's important to ensure it doesn't have the chance to build up on your teeth, gums, or braces.
Although this may seem like a lot, remember that plaque can attack your brackets and wires as well as the glue that holds your brackets to your teeth. If it doesn't get removed, you'll have to come back to your orthodontist. Sticking to a regular brushing routine will keep your braces working the way they should so that you only have to come in for minor adjustments.
Use the Right Tools and Techniques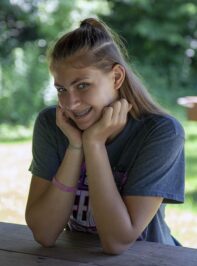 How to brush teeth with braces begins with a gentle touch. A soft-bristled toothbrush is best for braces, as it can effectively clean your teeth and your braces without damaging them. Flossing with regular floss can be really difficult, so we recommend using waxed floss, which passes between teeth far more easily. A floss threader can help you get around your wires more easily.
Before brushing, make sure you've removed any bands or elastics that can get in the way of proper brushing. Brushing with braces is all about taking your time. You want to make sure that you reach all of the areas around your teeth and braces. It can be a good idea to brush teeth one-by-one so you don't miss any spots.
To floss properly, be careful when going underneath the main wire of your braces. Then, gently move the floss gently up and down along the sides of teeth before moving on to the next.
Labbe Family Orthodontics offers braces for kids and adults at all of our locations, and we always treat you like family. Just call us at 410-267-7300, and you'll discover why life is better with a smile.