Dental injuries are very common and can occur during recreational and leisure activities, as well as when participating in a sport. The best way to protect the teeth from injury is to wear a mouthguard. This device benefits your orthodontic health in many ways.
Protects and Prevents Injury
A mouthguard is a device used in orthodontics to prevent injury to your teeth. It does this by absorbing energy from various types of impacts that can break or chip them. This device can also prevent injury to the rest of your mouth, which can occur as a result of an impact. These include cut cheeks, teeth, lips, and gums.
The energy of an impact can be enough to break the jaw, but the shock-absorbing power of a mouthguard can help prevent this. If you wear braces, a mouthguard can protect them as well as your teeth and mouth from damage and breakage.
Not Just for Sports
A mouthguard can be ideal if you have sleep apnea or bruxism (grinding the teeth). The device pulls your lower jaw forward, which keeps your airway open. If you grind your teeth, once again the guard comes to the rescue by absorbing the force of teeth grinding while providing a barrier between your teeth that prevents them from injuring one another.
A Proper Fit Is Essential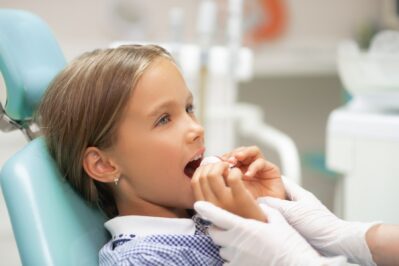 You can find ready-to-wear mouthguards in many stores, which can offer some protection to the teeth and mouth. However, one size won't work for every person. An ill-fitting mouthguard can make it difficult to breathe and talk, not to mention offer virtually no protection for your teeth. Unfortunately, these types of guards usually offer no option to adjust them.
Another option is to check out the "boil and bite" guards that are typically found at your local sporting goods store. Overall, these products can fit better than their above counterparts. This is because you can boil them to soften the material, place them in your mouth, and adjust the fit with your fingers and tongue.
The best-fitting mouthguards are those which are custom-made for you. When made exactly for your mouth, custom mouthguards will not only offer the highest degree of protection for your teeth, mouth, and jaw, but they also won't interfere with breathing or talking. As well, a custom-made mouthguard is adjustable.
Getting a Custom Mouthguard
The best person to see about getting a custom-made mouthguard is an orthodontist. Orthodontists specialize in correcting the position of your teeth, which ultimately improves your oral health.
They create your mouthguard from an impression of your teeth by having you bite into soft material. A mold is then made from this impression. It may be that you only need a guard for your top teeth, but many people wear guards on their top and bottom teeth.
Looking for a mouthguard? Search for "orthodontist near me" and choose Labbe Family Orthodontics. With Labbe, you're always treated like family. Call us today and discover why life is better with a smile: 410-267-7300.