There's nothing more exciting than knowing you're about to get your braces off. Whether it's been months, or even years, chances are you're close to the finish line and that perfect smile is shining through.
Here are some fun ways you can count down to the date when you're braces-free:
Use an App
These days, there's an app for everything. Downloading a countdown app to keep track of the days until your braces come off is a fun and interesting way to keep tabs on your progress. Certain apps may also allow you to set the countdown as your mobile background or create a countdown banner that you can add to your social media profile.
Create a Selfie Journal
Taking selfies is a great way to see steady changes and track improvements in your smile. By keeping a journal of pictures, you can easily look back and see just how much your smile has changed.
Because you may not see progress as quickly as you want, taking photos will also help you stay motivated, especially as you see your teeth start to align and straighten.
And if any of your friends have teen braces, let them join in on the fun as well!
Treat Yourself
Wearing braces for months (or even years) is a huge achievement! When you reach those special milestones, make sure to treat yourself to something nice. Whether it's a pedicure, a new outfit, or maybe even a braces-friendly sweet treat, you've earned it.
By celebrating milestones, your orthodontic journey will go by much quicker, and give you a date to look forward to!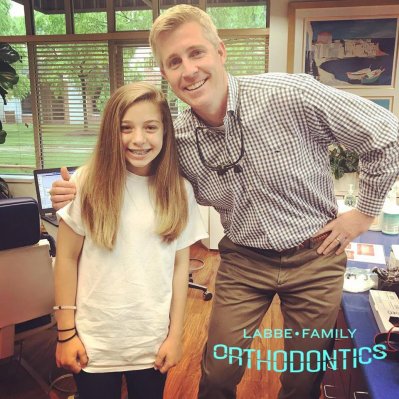 A Caring Kids Orthodontist Office
At Labbe Family Orthodontics, we treat our patients like family – especially when it comes to  orthodontics for children. For many younger kids and teenagers, the idea of having braces can be a little nerve-racking. At our orthodontics offices, we put a little fun into wearing teen braces by encouraging our patients to use a countdown, celebrate milestones, and treat themselves to make the process is a little more enjoyable.
If you're looking for a pediatric orthodontist in your area, look no further than Labbe Family Orthodontics. We specialize in braces for children, ceramic braces, and other teeth straightening services to give you the smile of your dreams.
Call our office today at (410) 267-7300 to schedule an appointment.