The popularity of adult clear braces continues to grow, and these amazing aligners allow easy removal for eating. Taking care of your teeth and practicing good oral hygiene during Invisalign treatment will give you beautiful results and a healthy smile.
Let's cover the orthodontist recommended cleaning procedures, daily habits to practice, and what you should carry with you to maintain good hygiene with Invisalign.
How to Care for Your Invisalign Aligners
As your clear braces work to straighten teeth, they must be very tight-fitting and will develop a film on both the inside and outside surfaces. They should be cleaned several times a day to prevent yellowing and odor.
Here's how to do the best job getting your aligners clean:
• Brush the trays whenever you brush your teeth.
• Wash them with clear antibacterial hand soap and rinse thoroughly as needed.
• Always clean, or at least rinse, your aligners before storing them in the case.
• Soak your aligners once daily in denture cleaner or Invisalign cleaning crystals.
• Only replace your aligner onto freshly brushed and flossed teeth.
Daily Habits for Maintaining Good Hygiene with Invisalign
Your clear braces will fit right into your active lifestyle if you keep just a few things in mind:
• Stop wearing lip gloss or lipstick, which can adhere to the aligners and interfere with their grip on the teeth. Colored lip products can stain the aligners or be trapped against a tooth and cause discoloration. Clear lip balm can be used for dry or chapped lips.
• Brush and floss after eating meals and snacks or drinking anything other than water. This step is an essential part of using adult invisible braces, and you should plan on brushing much more often than you might have before. Food particles trapped between teeth and inside the aligner won't be washed out by normal saliva and tongue movements.
• Avoid hot drinks that cause stains, such as coffee and black tea. The combination of heat and strong colors can stain your aligners over time, just as they stain teeth. By holding the liquid against your teeth, the tendency to stain is increased. If you do enjoy a coffee, remove your aligner, then clean your teeth before replacing it.
• Ask your Invisalign orthodontist about your unique hobbies, activities, and lifestyle. With the goal in mind of wearing your aligners at least 22 hours per day, making sure that you know how to care for your braces and the teeth inside them under any scenario will keep you involved in sports or travel without worries.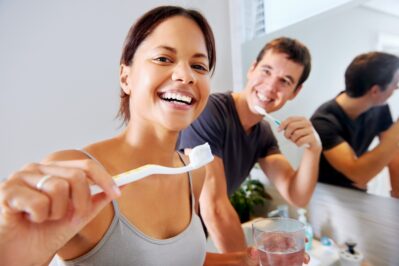 What Things Should You Carry to Take Care of Invisalign Aligners?
You will find it much easier to keep up with your hygiene habits if you have the right tools handy when the time comes. Some of the best items to carry with you at school, work, or when traveling are:
• Floss picks or small dental floss to remove food stuck between teeth
• Orthodontic wax to cover any uncomfortable edges
• Invisalign chewies, which help seat the tray properly and can relieve discomfort
• Aligner retrieval tools, which can help remove and replace the aligner if you have difficulty doing it by hand or when a tray is new
• Cleansing products, sprays, or towelette wipes, which will allow you to spray or wipe down the aligners when rinsing is not practical
• A discreet zipper case or kit to keep these essential items handy at all times
Finding Family-Friendly Orthodontic Treatment First
Choosing clear braces for your teeth starts with finding an orthodontist and team that you trust. At Labbe Family Orthodontics, we bring you the latest braces and treatment options in a fun and pleasant place to be.  schedule a free consultation to schedule a visit at one of our four locations and get clear answers to all your questions!