Choosing The Right Orthodontist For You: What To Consider
Finding the right orthodontist is a very important decision for your dental health and overall well-being. Like all patients, you want the peace of mind knowing that you've selected an orthodontist that offers top-notch care. You also want someone who can provide excellent results without an extremely high price tag.
In order to find the best orthodontist, you'll need to know what to look for. You don't want to trust your teeth with just anyone! Keep reading to learn the ins and outs of choosing the right orthodontist in your area.
When To Go To An Orthodontist
In an ideal world, you would have been introduced to orthodontic services as a child. In fact, the American Association of Orthodontists (AAO) recommends that children get a check-up with an orthodontist before the age of 7. The first sign of an orthodontic problem is truly the best time to seek professional help.
An orthodontist is able to spot subtle problems with emerging teeth, jaw growth, and/or bite problems. By identifying these problems early on, they can be monitored and corrected as necessary. Early treatment is the best way to prevent serious problems from developing.
But what if you never went to an orthodontist as a kid? The good news is that you're never too old for orthodontic treatment. According to a study conducted by AAO, from 2012 to 2014, the number of people seeking adult orthodontic treatment increased 16%.
However, not everyone needs to go to an orthodontist, and many confuse these services with a dentist. You require orthodontic services if:
Your teeth or crooked, crowded, or over-spaced
You have an under- or over-bite
You want a straighter smile
You have difficulty chewing, biting, or speaking
With the help of an orthodontic specialist, you can receive the diagnosis and treatment you need to perfect your smile. Having straight teeth not only boosts your self-esteem but also makes eating and talking much less of a chore.
Once you've decided that you need orthodontist care, the first step is to research local options.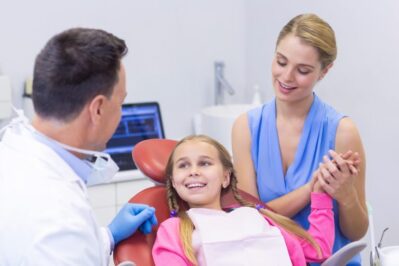 Research Orthodontists Near You
To find local orthodontists, use a search engine. You can simply type in a query like "orthodontists in Anne Arundel County" or "orthodontic services in Annapolis, MD." These queries will pull up results for orthodontic services in the specific area.
Another way to find orthodontists in your area is to ask friends and family members for referrals. Chances are someone in your social circle can recommend a local orthodontist that they trust. Referrals make it much easier to narrow down your options, but you'll still want to take the time to research to ensure you're making the best decision.
Once you've made a list of orthodontists in your area, you'll want to start looking at detailed information so that you can compare and contrast your options.
Reviews
When learning about orthodontist specialists in your area, the first things you'll want to review are patient testimonials. A good orthodontist will have testimonials on his/her website. You'll also likely find patient reviews on websites such as Yelp, ZocDoc, and on Google My Business.
By reading through reviews, you'll get a good idea of what each orthodontist is like, along with what patients liked and disliked about the services they received. Generally, you want to choose an orthodontist who has positive patient reviews, as negative reviews can be a sign of a lack of professionalism or a poor chair-side manner.
If you're seeking word-of-mouth referrals from friends and family members, ask them for their opinion on the orthodontist. This gives you a non-sugarcoated idea of what you can expect if you choose that orthodontist.
Websites
After looking at reviews, you'll also want to browse each local orthodontist's website. Online, you'll likely find office pictures along with information about the services that the orthodontist provides. Pay close attention to this information, as it will be quite useful when narrowing down your options.
For example, if you're an adult who needs braces for your teeth, you want to find a local orthodontist that offers a variety of teeth-straightening options. As an adult, you likely don't want a face full of noticeable metal, so you'll want to find an orthodontist that specializes in ceramic braces or Invisalign treatment.
When reviewing websites, you'll also want to make note of how professional the site looks. An orthodontist that's top-notch is likely to have a solid online presence as well. First impressions mean everything, so take note of what each website looks like and the type of information it presents to prospective patients.
Board Certified
Upon reviewing each orthodontist's website, you'll want to determine which board certifications he or she has. You can generally find this information on the about us page on the website.
A board-certified orthodontist is someone who has voluntarily completed hundreds of additional hours of study in order to offer the highest level of patient care possible. Orthodontists can only be certified by the American Board of Orthodontists, which is the only board recognized by the American Dental Association.
By choosing a local orthodontist that is board certified, you can have the peace of mind that you'll receive comprehensive treatment and care. Board certifications must be renewed every 10 years, ensuring that the orthodontist is committed to providing quality care.
Take Advantage Of Free Consultations
Once you've narrowed down your list of orthodontic specialists, the next step is to take advantage of free consultations. Most orthodontists offer free consultations for first-time patients who are unsure of what type of treatment they need.
With a free consultation, you're able to meet with the orthodontist and office staff in person. Here, you can get a feel for the quality of the office and those who work there. During your consultation, listen to your gut instinct. If you feel welcome and see that the office is modern, clean, and well-kept, you've likely found a great orthodontist that you can trust.
Ask The Right Questions
Before leaving the consultation, there are questions you'll want to ask so that you can make the best choice. You'll want to ask questions such as:
What is your orthodontic experience?
What treatment options are available?
What are your office hours?
How long will treatment take?
What's the cost of treatment?
Do you accept dental insurance?
Take notes with all of the answers so that you have something to refer back to. Once you've done a few free consultations, you'll likely have a good idea of which orthodontist is the best choice for you.
Choose Labbe Family Orthodontics
Don't trust your teeth with just any local orthodontist! If you're looking for orthodontic services in the Annapolis, Bowie, Crofton, or Greenbelt area, look no further than Labbe Family Orthodontics. We truly believe that life is better with a smile, and our goal is to give you a smile that you're proud to show off.
Dr. Labbe offers a wide range of services, including clear braces, ceramic braces, Invisalign, surgical orthodontics, and early orthodontics for little ones. Our office welcomes new patients to the Labbe family, and we look forward to meeting you!
Call our office at (410) 267-7300 to schedule an appointment.
Sources: