When is the right time to get braces? Children and teens who learn that they need braces may have all sorts of reactions. They might be in a hurry to get started on a better smile or they may worry about their appearance or being teased.
Braces for children have advanced far beyond what we as parents remember. Knowing the right answers to their questions will help you to reassure your child that braces are the right choice, right now. Let's cover some of the best braces for children and how to help your child make the transition.
How Soon Is Too Soon?
There is no braces age limit, but many times we are asked, "what is the best age to get braces?" There are many helpful treatments that can begin at age 6 or 7. At these early stages the focus is on jaw alignment, development problems, and reducing the need for more invasive procedures later.
By dealing with any growing issues early, these phase 1 braces set the stage for how the permanent teeth develop. If you or your dentist believe orthodontic treatment might be helpful, it's never too soon to start laying the foundation for the best possible smile.
Affordable and Almost Invisible
There have been recent improvements in orthodontics that minimize the visibility of braces. Braces for teeth that are still developing must be carefully selected, so not every type may be available to your child.
Types of Braces
Traditional metal braces. Teeth are fitted with metal brackets with wires between them.
Ceramic braces. The brackets and sometimes the wires themselves are of a tooth-colored ceramic material.
Invisalign®. Clear plastic forms that move teeth into place over time, without brackets.
How Much Do Braces Cost?
With insurance and without, braces are an investment in the future. Costs will range from $3,000 to $7,000 for most patients,1 but insurance and financing are available to help.
Show Your Support
A great support system will keep the fun and optimism in this transformational experience. Creating your child's ideal smile should be supported by the whole family. Plan for meals that will be easy for everyone to enjoy when your child has treatments scheduled.
Allow your child to express the natural discomfort of braces on teeth and let your orthodontist know if there is anything wrong. Rather than letting them hide their braces or faces, tell them how much you like their smile in braces!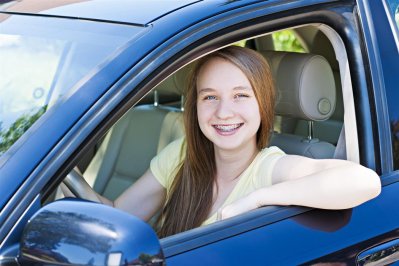 Worries about teasing should be talked about in the open. Remember that letting orthodontic issues go on untreated might also result in teasing, and encourage your child or teen to be confident and accepting of themselves. Taking positive steps to improve your health and appearance is not something to be made fun of, it is something to be admired.
Family Makes It Fun
Life is better with a smile! A fun environment with encouragement and support will help your child or teen feel good about themselves and their braces. At Labbe Family Orthodontics we treat you like family, and we can't wait to help you and your loved ones with the best orthodontic care at the right time.
If you are looking for the best orthodontist for your child, or braces for your teeth, our team is ready to guide you to the best options for your most beautiful smile. We even offer flexible financing including a 0% option and we accept most insurance. Reach out today and find out more!
Sources: