When choosing a dental insurance plan for yourself or your family, these tips will help you plan for current and future orthodontic treatment and help defray the out-of-pocket costs. Your family orthodontist may also offer discount plans and financing to help make sure your family is full of bright smiles.
Let's look at the best ways to make sure your dental insurance plan is providing the most value for your money:
5 Tips for Choosing the Right Dental Insurance for Your Family
There are many types of dental insurance with varying deductibles, premiums, and levels of coverage. By choosing insurance that covers orthodontia, you can manage costs in a more predictable way while providing the right treatment at the right time for growing children.
As you compare plans:
1. Determine the Types of Services You May Need
The more family members you have, the more likely someone will need braces for their teeth or special services like implants. Sports enthusiasts may need mouth guards, seniors may need dentures or bridges, and everyone in your family needs preventative care to keep their mouths healthy.
2. Identify Which Plans Are Available in Your Area
Your employer will have options to offer in your specific area which may include:
• Free choice insurance, which pays a specific amount no matter which provider you use. These plans allow you to choose your own doctor.
• HMOs and PMOs usually have specific dentists and orthodontists from which you may need to choose from.
• Dental or orthodontic discount plans might also be available directly from your favorite dentist or orthodontist.
3. Find Out Which Plans Offer the Coverage Your Family Needs
Dig deeper into the plans available to you, with an eye for coverage of the services you know your family might need. The types of dental coverage available usually include:
• Preventative care. Also called routine care, this typically covers checkups, cleanings, x-rays, fillings, and sealants. Root canals and routine gum care are sometimes covered.
• Emergency care. This option provides some dental coverage for cracked or broken teeth, tooth extraction, accident injuries, and oral surgery.
• Complex care. This is the category where you will find orthodontic treatment It also covers dentures for seniors and bridges, usually at about 50% of the cost. If your family is likely to need these services, getting half off for a slightly higher premium might mean great cost savings down the road.
4. Find the Plan That Includes the Providers You Want
We all have preferences when it comes to which dentist, doctor, or orthodontist we visit. If you and your family have a relationship for a fun orthodontic team like ours at Labbe Family Orthodontics, you want to make sure that your chosen dental insurance plan will work with our office in payment of claims.
To access your preferred orthodontic specialists, check with your HR representative to see which plan would cover their services. Ask your orthodontist which insurance companies they work with already for a smooth transition.
5. Compare the Real Costs of Each Plan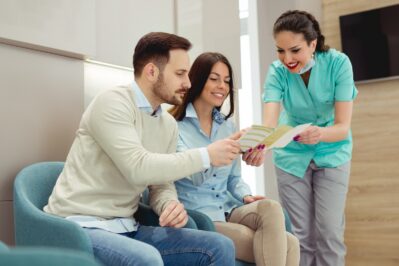 Insurance policies can be confusing, so it is helpful to figure out what your annual family cost would be with each option. Consider these factors as you tally up the numbers:
• Monthly premium
• Deductible
• Maximum annual limit (by individual or family or both)
• Waiting periods before coverage begins
Providing Affordable Smiles with Friendly Faces
At Labbe Family Orthodontics, we work with the widest range of insurance options available in the Maryland region, and we offer flexible financing and payments. When you make the choice to add orthodontic coverage to your dental insurance plan, don't just search for an "orthodontist near me." Make sure we are on the list of approved providers to keep your kids smiling without worrying about your budget!