Ceramic Braces Vs. Traditional Braces: Which Is Right For You?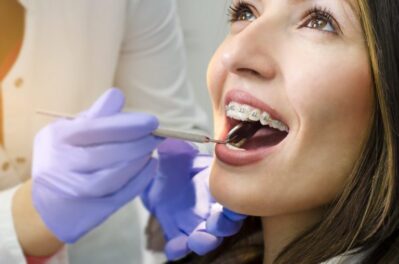 When most people think about orthodontic treatment, the first thing that comes to mind is getting braces. Straight teeth are important to orthodontists, which is why there are several different types of braces to consider.
It's not just kids and teens looking for braces to get a straighter smile, either. Braces for adults have become more common in recent years. They are often used by adults who may not have had the opportunity to have orthodontic care in their younger years.
Most adults don't want to have to deal with traditional/metal braces. Thankfully, because there are several options to choose from, adults and kids/teens can choose from things like clear braces, ceramic braces, and even invisible aligners.
Of course, these different types of braces all have positives and negatives to consider. Let's take a closer look at the differences between ceramic braces and traditional braces. The more you know about what to expect from each, the easier it will be (at any age) to decide about which type is right for you.
Traditional Braces
Traditional braces (also known as metal braces) have been the most popular choice for people wanting to straighten their teeth for many years. They were one of the first options to effectively straighten your smile, and they're still popular today because of how well they work.
Metal braces work by holding a thin wire in place across the teeth. It's held with rubber bands that put pressure on the teeth. As a result, the teeth will start to shift and move to their desired set location.
Even though metal braces and brackets are traditional, that doesn't mean they're the same as they were 20 years ago. Today, metal braces have smaller brackets and are often less noticeable than they used to be. There are also different innovations associated with metal braces, including heat-activated archwires. These use your body's natural heat to help your teeth shift into place faster and with less discomfort.
What Are the Pros and Cons of Traditional Braces?
When you're choosing any type of braces, it's important to consider the advantages and disadvantages. Because traditional braces are still very popular and almost everyone knows what they are, it's easy to assume you know the benefits and drawbacks. Yet, before you make your final decision on which type of braces to get, consider some of these pros and cons:
Pros:
Most affordable type of braces
More comfortable than they used to be
Orthodontists have more control over moving the teeth slowly and accurately
Best for treating extreme overcrowding
Cons:
Most noticeable type of braces
Can irritate gums and cheeks
You can't eat certain foods that could get stuck or damage the braces
Ceramic Braces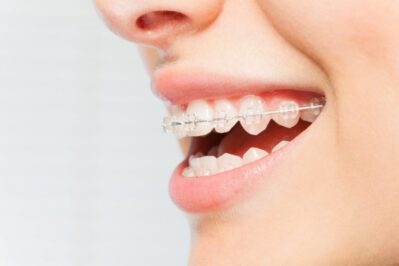 Ceramic braces have some similarities to traditional metal braces, but they are designed to blend in with your teeth so they're less noticeable. You can typically choose between tooth-colored or clear ceramic brackets that blend into your teeth. Some orthodontists even offer tooth-colored wires to make them even less noticeable.
You'll still have to visit your orthodontist regularly, as the braces need to be adjusted and the ties need to be changed. This usually happens about once a month.
What Are the Pros and Cons of Ceramic Braces?
Though ceramic braces have a few more aesthetic advantages than metal braces, there are also some drawbacks to consider before you make your choice:
Pros:
Less noticeable than traditional braces
Move teeth faster than other invisible braces
Cons:
Ties stain easily and have to be frequently replaced
Higher cost than traditional braces
High-maintenance
Can break or chip easily
Other Types Of Braces To Consider
There are several other types of braces you might consider when you're weighing out which type is right for you. The most popular option is that of invisible braces like Invisalign.
Invisible braces are often a top choice for adults because they're virtually unnoticeable. They're also easier to take care of and don't require as many trips to the orthodontist as other types of braces. You can also eat and drink whatever you want without the fear of damaging them or staining since they're typically replaced every two weeks.
One of the drawbacks of invisible braces like Invisalign is that they can be very pricey. They also don't work as quickly as more traditional braces, and they don't work on people with serious teeth problems. If you're an adult who needs a little bit of help getting a straighter smile, Invisalign can be a great option. However, if you need more than just minor alignment corrections, you should probably consider traditional or ceramic braces.
Taking Care Of Your Braces
No matter which type of braces you choose, it's important to know how to care for them properly, as well as how to care for your teeth as you're going through the process of alignment. Talking to your orthodontist about proper oral care is the best way to make sure you're doing what's right. Here are some extra tips to keep in mind after your braces are put on:
1.    Avoid certain foods: Whether you choose traditional braces or ceramic braces, certain foods can easily cause them to break or chip. Other foods can get stuck in the brackets and could potentially damage your teeth or cause cavities. Some foods to avoid include things like chewy candy, popcorn, and certain hard fruits and vegetables.
2.    Don't forget to brush: Brushing and flossing your teeth should always be a part of your daily routine, but it's even more important when you have braces. Brushing and flossing each day will help your teeth underneath the braces to stay strong and healthy. When some people get their braces removed, they may notice small stains on their teeth from where the brackets were. This is often due to poor oral hygiene while the braces were on. Brushing and flossing each day will also help people with ceramic brackets to experience less noticeable staining.
3.    Stick to your treatment plan: Depending on how much your teeth need to be aligned, you might be wearing your braces for a long time. With that in mind, it's essential to follow any advice your orthodontist gives to you regarding proper care. Making sure you go to every appointment to get the brackets and wires adjusted will help to ensure the braces are working as efficiently as possible.
Which Braces Are Right For Me?
Whether you choose traditional braces, ceramic braces, or an alternative like Invisalign, be sure you understand how each option fits in with your lifestyle. Just because something like Invisalign might look better, you'll undoubtedly be wearing them longer and spending more money. On the other hand, if you only have minor alignment issues, it could be an effective option for you.
If you're an adult considering braces for the first time, we sincerely hope this article has helped make your decision easier. If you're still unsure about which type of braces is right for you or you have any questions about the process, please don't hesitate to contact us at Labbe Family Orthodontics. We know getting braces can feel a little intimidating—especially as an adult. That's why we make it our mission to treat every patient like family, so you can be comfortable and confident in your decision to have a healthy, straight smile!