Can I Have Orthodontic Treatment If I Have Dental Implants?
In our family orthodontics practice, we see an increasing number of adults who want to improve their smile with braces. Of course, most adults have had other dental work in the past, including crowns, fillings, and dental implants.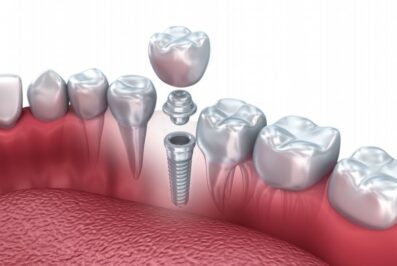 Missing and misaligned teeth can and should be corrected because life is better with a smile! Even if you have dental implants or other dental work already in place, it is still possible to achieve great results with braces.
If you have the ability to choose which comes first, there are a number of factors that will help your local orthodontist determine if braces or implants are the best first step. Let's explore how these treatments can work together to create a winning smile that lasts a lifetime.
What Are Dental Implants?
Dental implants provide a permanent replacement for a missing or lost tooth. A surgeon implants a titanium post into the jaw bone to serve as a mounting point for the tooth-colored crown that replaces the original tooth.
Some important facts to know about dental implants:
15 million Americans have crown and bridge replacements for missing teeth.2
There are 5 million people in the US. who have implants, and that number is growing each year.2
The success rate of dental implants is 98 percent.2
Implants typically last more than 20 years and often last a lifetime with good care.3
Implants can prevent the jawbone from shrinking or deteriorating due to missing teeth.3
Because the implant is fixed to the bone, it cannot be moved in the course of orthodontic treatment. However, it does not prevent braces from aligning the rest of your teeth around the implant.
Planning The Perfect Smile
Most often, if you need both orthodontic care and dental implants, your braces should be the first step. This allows the braces to create a perfectly aligned space for the permanent implant.
The advantages of having braces before implants include:
The existing teeth are moved more easily without an obstacle to work around.
Braces create ideal spacing for correct placement of the implant the first time.
A combined treatment plan will produce the best possible results.
There is a smooth transition from the implant surgeon back to the orthodontist for retainer fitting or additional treatment to maintain the ideal alignment.
Implants As Aids to Orthodontic Treatment
Sometimes, the tooth that is missing is the exact one your orthodontist needs as an anchor point for straightening your teeth. The titanium post and/or the attached crown might need to be placed first to provide the structure and stability necessary for rapid tooth movement. This approach of using implants for anchorage benefits from precise planning and cooperation between the implant surgeon and an experienced orthodontist.1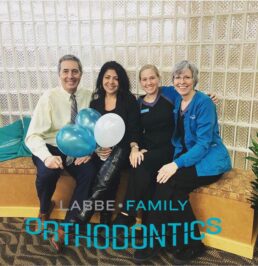 Small titanium posts can also be placed just for the purpose of providing anchor points for orthodontic treatment. These devices, called Temporary Anchorage Devices (TADs) can provide faster tooth movement with less discomfort when greater degrees of correction is needed. In some cases, they can even replace headgear!
In other cases, your orthodontist might determine that the missing tooth will not be affected by your braces, and you can decide if you want to have the implant placed before your braces are fitted. Having great communication with your orthodontist and dental surgeon will help achieve the most amazing smile possible.
Can I Have Braces if I Have Missing Teeth?
In many cases, you can and probably should have braces to correct the results of a missing tooth. When there are teeth missing, the adjacent teeth can tip or drift to fill the space. Braces will restore the alignment and hold the space open. This provides the ideal scenario for dental implant placement, resulting in the best function, improved oral health, and most aesthetically pleasing results.1
Can Braces Be Used Instead of Dental Implants?
Occasionally, the missing tooth is a blessing in disguise for your orthodontic care. If overcrowding was a cause of misalignment, braces can fill that space while straightening your teeth. This may be another good reason to consult with an orthodontist before having an implant placed.
An orthodontic evaluation will determine if using braces instead of dental implants is a good option for you. The factors involved will include which teeth are missing and if a proper bite can be achieved without the missing tooth.
What If I Already Have A Dental Implant?
If you already have a dental implant, you can still have the smile you want. It is important to find an orthodontist you trust to guide you through the choices and options available. Much will depend on how long ago your implant was placed and whether it can remain stationary while still aligning properly.
As we age, our teeth move naturally toward the front of the mouth. Sometimes this leaves an implant, which cannot move, looking out of place. Or, if the implant was placed in line with crooked teeth, it may not fit into your new smile. You can decide if you will embrace a slightly less perfect alignment or decide to remove the implant and have it replaced after your orthodontic treatment is complete.
Advantages of having your dental implant in place before getting braces include:
Correcting the drifting of teeth around the implant which happens over time.
Providing a strong anchor point and faster movement of the surrounding teeth.
Making it easier to use Invisalign or other invisible braces options.
Having no gaps or missing teeth in your smile during treatment.
What if I Have Crowns, Fillings, or Other Fixtures?
At your initial visit with the orthodontist, he or she will confirm that your fillings and other dental fixtures will not cause an issue with your braces. Sometimes the type of braces you choose will depend on these factors, and other times only minor adjustments are needed.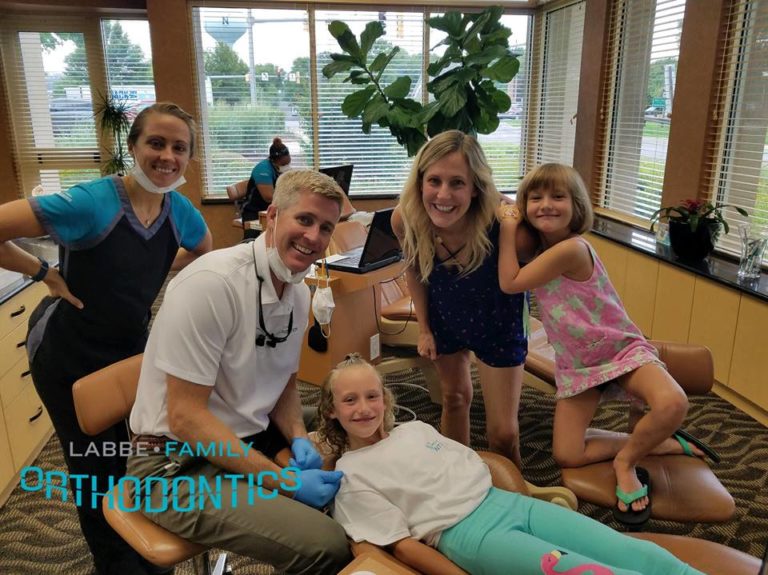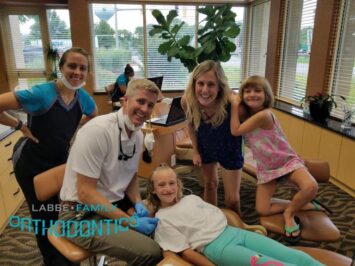 Fillings.  These seldom present a problem which cannot be solved with minor additions. For example, large fillings might require adding more rubber band spacers.
Crowns. Traditional metal braces can be used if you have crowns, although they require a different type of dental adhesive than natural teeth. Invisalign may also be a great choice if you have crowns or caps because no adhesive is necessary for the clear aligner trays.
Veneers. Existing veneers can limit some orthodontic treatments, but this challenge can usually be overcome using Invisalign braces, by adhering brackets to the backs of the teeth, or by the use of special adhesives if brackets must be placed on top of dental veneers.
Your Smile Is One of a Kind
No matter what might be standing in the way, there is a path to your perfect smile. The best orthodontist is one who treats you like family and has the extensive experience to incorporate your unique challenges into individualized treatment plans and personalized orthodontic services.
Our expert teams in Annapolis, Bowie, Crofton/Gambrills, and Greenbelt offer free consultations and can help you decide whether to get an implant or braces first. If you are wondering about the position of your existing implant or have any other concerns about improving your smile, come see us today!
At Labbe Family Orthodontics, we are dedicated to changing lives with beautiful, healthy smiles. We can't wait to meet with you and help make your orthodontic experience fun, exciting, and rewarding. Contact us online or give us a call at (410) 267-7300 to experience excellent care in a caring environment.
Sources: